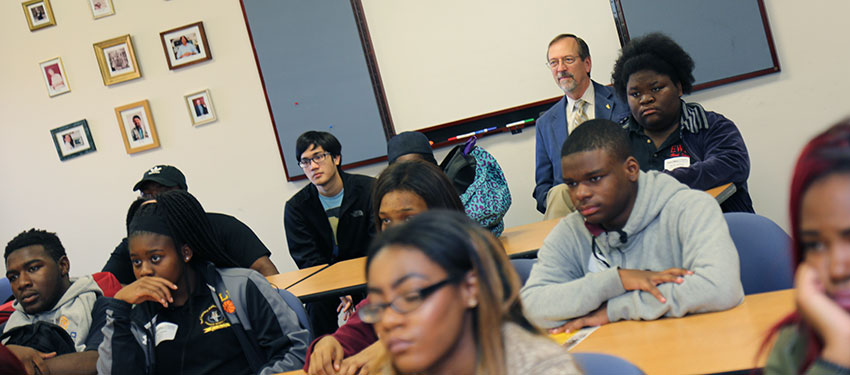 Building STEPS creates exposure and unlocks potential through a continuum of progressive programming that begins in 11th grade.
Designed to ensure college and career success, our five program components offer exposure to careers that rely on science and technology, a paid summer internship, college access, persistence and completion workshops, and alumni support.
Almost all Building STEPS students are the first in their family to earn a college degree and many are the first to graduate from high school. More than 80% of Building STEPS students earn a college degree.
---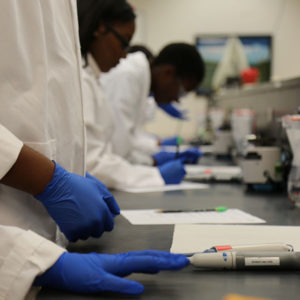 Junior Seminars
Hosted one day each month from September to May, these full day seminars enable our students to consider careers otherwise unimaginable. Each junior seminar incorporate a site visit, guest speakers and hands on activities, as well as information about the education and life skills necessary to succeed in these demanding, STEM oriented careers. By way of example, they witness 3-D modeling and its unlimited uses, visit a planetarium to connect space with satellites, touch a cadaver to learn why it is used in college level science classes, and learn about coding by programming a ball to bounce across the computer screen.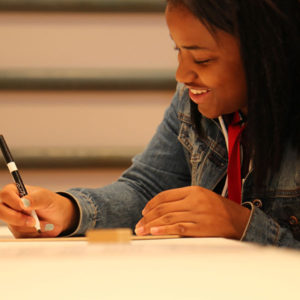 Summer Experience
This five week paid internship, complemented with weekly workshops, affords our rising high school seniors the opportunity to work in and explore their specific area of interest. As summer interns, they are immersed in a STEM environment and learn first-hand about workplace expectations and dynamics. The workshops engage students in professional & academic development activities, including effective communications conflict resolution, as well as SAT prep and community service.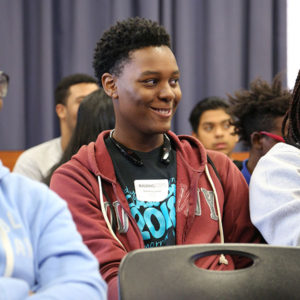 College Workshops
Our interactive curriculum teaches our students to identify colleges that match their interests, capabilities and needs and guides them to submit complete, competitive college and scholarship applications. Significantly, through engaging programming, we prepare our students to anticipate and navigate first year opportunities and challenges and to maximize campus resources. All students complete and submit their college and financial aid applications and more than 90% are accepted to a 4-year college.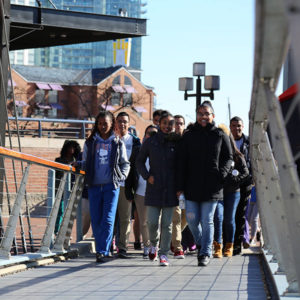 College Connect
Building STEPS college students benefit from consistent and ongoing support that begins when they commit to their choice college. We ensure our college students are enrolled in classes and maximizing their resources, both on campus and off. We visit them on campus, send care packages, and connect them with other Building STEPS college students. Critically, we remain their support and advocate by connecting them with the resources needed to succeed.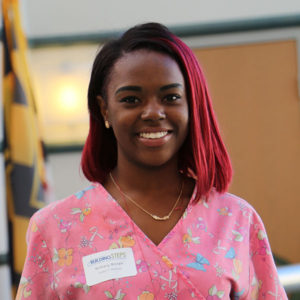 Alumni Services
Alumni Services delivers a breadth of events, networking opportunities and services that support and promote career development. Building STEPS college graduates, those who continue their education and those that start their careers, benefit from a network of fellow alumni.
Supplemental Activities provide enhancements to further our students' success: Book Club, SAT
tutoring, community service, college visits, Building STEPS Club.
Network High Schools
ACCE
Augusta Fells Savage Institute of Visual Arts
Benjamin Franklin
Carver Vocational Technical
Digital Harbor
Edmondson Westside
Forest Park
Frederick Douglass
Patterson
Paul Laurence Dunbar
Mergenthaler Vocational Technical
New Era Academy
Reginald F. Lewis
Renaissance Academy
Vivien T. Thomas Medical Arts Academy